Ask anyone who isn't a watch person to name their favorite brands and you'll get the same responses over and over: Rolex. Omega. Timex. Fossil. Swatch. The mega-brand watch empires are as big and strong as ever, but in the background there are a number of unique micro-brands building limited-edition watches to fit any budget. Though small watchmakers were already thriving off word-of-mouth buzz and online watch aficionado forums, Kickstarter recently came in and changed the whole game. Now it's easier than ever for watch enthusiasts with a bit of business acumen and a good eye to start their own brand. And the thing is, these watches are as good as any the big brands might build. But until now, only those in the know have been able to find them and buy them. Rather than just typing "watch" into a Kickstarter search, let us introduce you to a few brands that are actually worth checking out. They're all unique and will add something special to any collector's array of timepieces.
Lew & Huey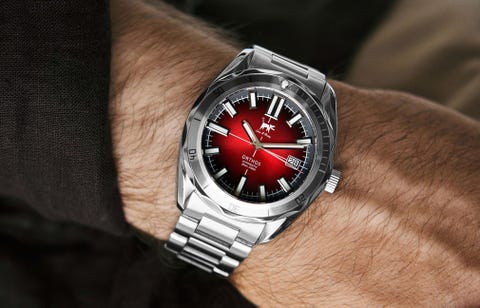 Red and gray Orthos watch ($475) by Lew & Huey, lewandhuey.com
Since July of 2013, Chris Vail of Lew & Huey has successfully funded five watches via Kickstarter, with a 6th model already available for pre-order. Chris designs playful timepieces with a hint of vintage flair, all running on reliable Japanese Miyota and Seiko movements. We're partial to the bold Orange Spectre for its utilitarian pilot markers, prominent hands, and funky '70s-inspired case design. The upcoming Phantom pilot's watch isn't as bright as past models, but details like a sandwich dial and domed acrylic crystal give it some serious charm for watch geeks looking to fly a little more under the radar.
Brew Watch Co.
Rose gold watch ($275) by Brew Watch Co., brew-watches.com
Brew Watch Co. creator Jonathan Ferrer grew up around jewelry design, with his grandfather working for Cartier and father for Tiffany & Co. After studying industrial design, Jonathan interned with Movado and before long had his heart set on launching his own watch brand. Having always had an eye on fashion and lifestyle trends, there was little surprise that his first design quickly climbed to its funding target on Kickstarter within a month. Brew's caffeine-fueled design aesthetic is a bold mix of rugged industrial meets refined dress watch. Though not your average slim-cased dress watch, the Brew chronograph is still sleek enough to dress up or down. Powered by a reliable Swiss Ronda quartz movement, the Brew comes across as a great grab-and-go watch that makes a strong impression. Their Kickstarter run may be over, but watches are still available for pre-order via their website.
Helgray Watch Company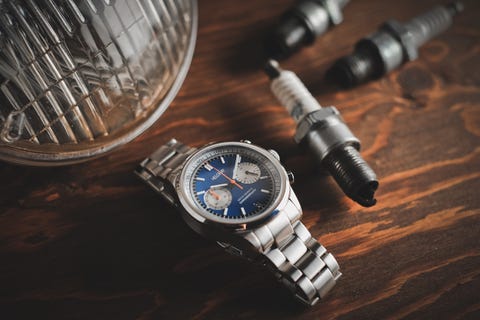 Silvestone blue watch ($329) by Helgray, helgray.com
Far from a Kickstarter newbie, Nadim Elgarhy has started a handful of watch brands via crowd funding platform, including Makara, Rossling & Co., and now Helgray. The brand's first round focused on an early military watch aesthetic, and their upcoming Silverstone is a classic tribute to '70s chronographs. Nadim has been teasing about a new dive watch coming up, and after seeing what he's been able to do so far, we're excited to see what comes next.
Benarus Watches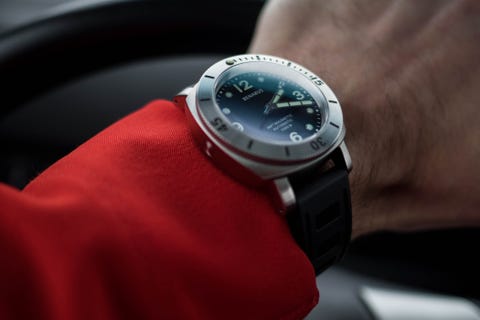 40mm Moray watch ($700) by Benarus, benaruswatches.com
Unlike the companies listed above, Benarus started its life as the self-funded venture of Steve Laughlin back around 2008. Focusing on well-made dive watches designed and engineered to take a beating, Benarus has remained a popular brand for collectors in the sub $1k range. From the mid-sized and hugely comfortable Moray divers to the massive 2500m dive-rated Megalodon, all Benarus models balance character and functionality. Capitalizing on the benefits of the Kickstarter movement, Steve has just relaunched the mighty Megalodon as a Kickstarter campaign and he's already exceeded his funding goal of $50,000 by nearly $24,000. If you like watches with a ton of wrist presence, Benarus might be for you.
Zelos Watches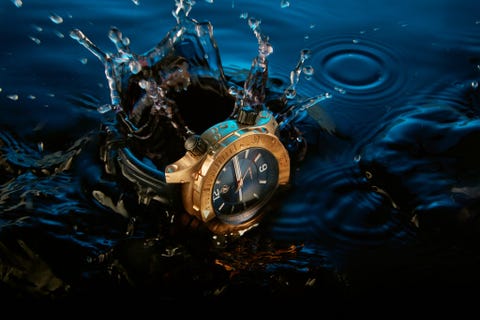 Black dial Abyss watch ($620) by Zelos Watches, zeloswatches.com
Another Kickstarter-watch-project veteran, Elshan Tang, has a penchant for out-there designs that actually work well. Now about to deliver his third Zelos watch, the Abyss, within the next month, Elshan continues to play with machining techniques and blended finishes. He also recently funded a side project under the Ventus Watches imprint, featuring a modern take on the classic pilot watch using brass cases. The Ventus Caspian actually surpassed its funding goal on Kickstarter by an astronomical 688%. With a hit rate like that, it probably won't be long before he rolls back around with another unique design.
Visitor Watch Co.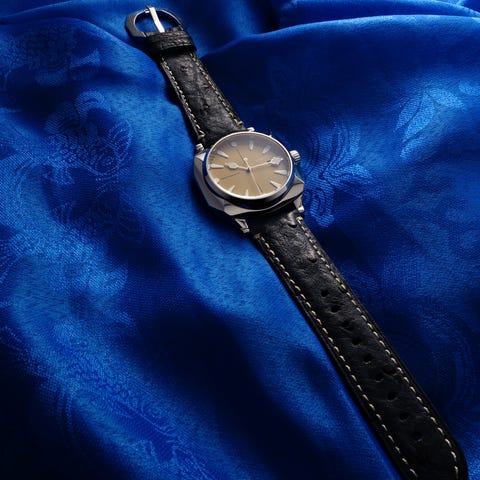 Blue slate Duneshore watch ($650) by Visitor Watch Co., visitorwatchco.com
This list wouldn't be complete without the Visitor Watch Company. From its oddly-shaped hands to its beautiful curved caseback, the Visitor Duneshore is an artfully crafted piece wrist piece that has fans all over the globe anxiously awaiting delivery. A read through their site reveals that Visitor founder Phil Rodenbeck knows his way around good marketing lingo; however, strip that all away and you're still left with an extremely cool watch. The Kickstarter campaign may be long over, but pre-orders of the Duneshore are still available via the Visitor Watch Co. website.
Justin Mastine-Frost After years of working as both an automotive journalist and a BMW factory technician, to say I live and breathe the automotive world could still be considered an understatement.
This content is created and maintained by a third party, and imported onto this page to help users provide their email addresses. You may be able to find more information about this and similar content at piano.io
This article originally appeared on https://www.esquire.com/style/mens-accessories/news/a35751/kickstarter-watches/