Friday Night Funkin'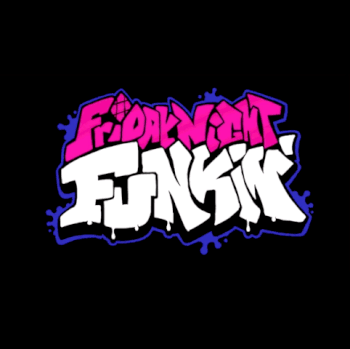 Developer
ninjamuffin99 (Code)
PhantomArcade (Artwork)
EvilSk8r (Artwork)
KawaiSprite (Soundtrack)
Friday Night Funkin' is an open source rhythm-based game, similar to Just Dance and Dance Dance Revolution.
Compatibility
Friday Night Funkin is available for Linux, macOS, and Windows. A browser-based version was adapted by a 3rd-party developer for iOS and iPadOS users, though an Apple A12X or later processor is recommended to have enough memory to load the game properly.[1] A native iOS build is also available for older models, but Jailbreaking is required.[2]
Gameplay
Different arrow keys float up, and pressing the corresponding arrow keys will allow you to progress the song. The player controls "Boyfriend", portrayed as a 19-year old person with blue hair, a red cap, and a white shirt with a prohibition sign on it. The player's goal is to be able to date "Girlfriend", who is portrayed with brown hair and red clothes.
Levels
Progression in the game is organized into "weeks":
Week 1 — The player competes against Girlfriend's dad, Daddy Dearest.[3]
Week 2 — The player competes against Skid and Pump, 2 children dressed as a pumpkin and a skeleton, the mascots of Spooky Month; then faces Monster, or Lemon Demon, a crazy demon with a lemon-shaped head.[4]
Week 3 — The player competes against Pico, a character from an Adobe Flash game called Pico's School. He also appears in Week 7, during the last song, Stress.[5]
Week 4 — The player competes against Girlfriend's mom, Mommy Mearest.[6]
Week 5 — The player competes against Mommy Mearest and Daddy Dearest again, the two of which hold the Mall Santa hostage: the Monster appears in the last song.[7]
Week 6 — You and Girlfriend are sucked into a cursed game called Hating Simulator and fight Senpai for the first two songs, then fight the Spirit in the last song.[8]
Week 7 — The player competes against Tankman, the mascot of Newgrounds.[9]
Kickstarter campaign
A Kickstarter campaign for Friday Night Funkin', crudely named "Friday Night Funkin': The Full A** Game" was released during 2021. The campaign ran for about a month until closing on May 18, 2021.
Ludum Dare 47 prototype
On October 5, 2020, ninjamuffin99, PhantomArcade, KawaiSprite, and EvilSk8r collaborated on the Ludum Dare prototype of FNF. Several drastic differences could be found between the prototype and the current build (see [[1]]).
Gallery
References
External links


This article originally appeared on https://apple.fandom.com/wiki/Friday_Night_Funkin%27