Olloclip is back on Kickstarter today with a new campaign for its iPhone 6/Plus case and accessory system called Studio. This new case creates a customizable photography system for your iPhone that enables users to add accessories and achieve just the right setup for capturing images or videos.
We have the full details below plus a deal on an alternative to Olloclip's popular lenses.
Olloclip's studio wraps your iPhone in a case that doesn't necessarily standout in any particular way. It's made of a protective material that is built to withstand four foot drops, has custom cutouts for Olloclip's lenses and a rail system for the new add-ons in this Kickstarter campaign. The case itself will be available in three different color options that will be voted on if it is fully funded.
The standout pieces of the campaign are the accessories that mount onto the case, which enable users to attach tripods, microphones, lights and other items. A universal finger grip provides a handle on the back side of the case for different holding options when taking selfies or capturing video in difficult locations. Cold shoe mounts for custom fitting accessories are also included at select pledge levels. All told, if you're into iPhone photography and want to make a run at Apple's new marketing campaign, the Olloclip Studio may be worth backing.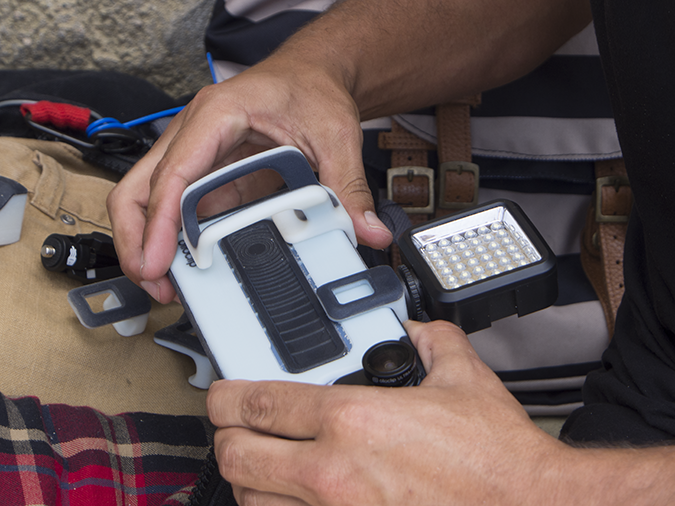 A pledge of $35 will deliver a studio case and kickstand clip, while $60 will bring a case plus a full accessory kit with grips, mounts and more. Other options are available as well, with a full 30 days left in the campaign, Olloclip has raised 10% of its $100,000 goal.
Interested in iPhone photography but looking for a more cost effective option? Mpow's 3-in-1 clip-on lenssystem is currently available on Amazon for $11.99 with free shipping after coupon code ZJ7E597Z is applied at checkout. This lens system adds fish eye, macro and wide angle lens to a iPhone 6/Plus, 5/s or Samsung Galaxy devices. It is rated 4/5 stars.
Subscribe to the 9to5Toys YouTube Channel for all of the latest videos, reviews, and more!


This article originally appeared on https://9to5toys.com/2015/07/01/olloclip-studio-deal/