After Pebble was acquired by Fitbit late last year, Pebble said that its hardware devices would continue to function as normal for at least another year, with any future support for its services heading into 2018 unclear. Today, Pebble founder Eric Migicovsky has revealed his next project, and it's a Kickstarter for a case aimed at the iPhone 7 and iPhone 7 Plus that also charges AirPods, called "PodCase" (via Engadget).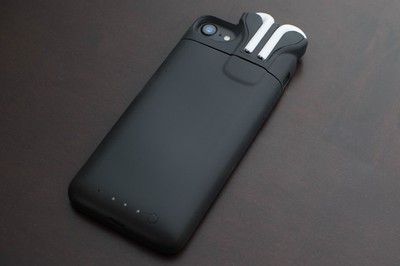 The Kickstarter page describes the case as a "slim case" for carrying and charging both the iPhone and AirPods, thanks to a 2500 mAh battery. That'll provide up to one full charge for the iPhone 7 (with a 1,960 mAh battery), although not quite enough for a full charge of the iPhone 7 Plus (with a 2,900 mAh battery). That's also equivalent to "up to 40 AirPod charges," according to the PodCase's crowdfunding page.
Keeping track of your AirPod charging case is a chore. It's one more gadget to misplace, one more item to remember when you run out the door, and one more lump of plastic in your pocket. Drop it into your bag or purse and you might as well call search and rescue! Storing your AirPods with your phone seemed only natural to us.

Charging an extra device every night is a pain. No one likes a mess of cables on their night stand, and remembering to charge your AirPods during the day isn't a great solution either. You plug your phone in every night anyway–why not charge your AirPods and your iPhone together? That's exactly what PodCase does.
The case itself is charged through USB-C, so those with the newest MacBook models will be able to fuel up PodCase through their existing chargers. A design for the iPhone 8 is said to be coming soon, but the company is waiting for the September 12 Apple event to confirm the accessory's design.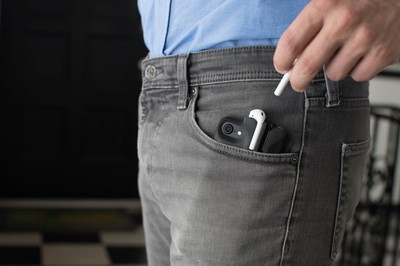 PodCase will retail for $99, but early bird Kickstarter backers will be able to buy the accessory for $79. The PodCase team also includes Avegant co-founder Allan Evans and Pebble industrial designer Steve Johns. Check out the PodCase Kickstarter page here for more information on the accessory, including a video introduction by Migicovsky.
The Kickstarter's goal is $300,015 in 30 days, and the PodCase's shipping date is estimated for February 2018.
This article originally appeared on https://www.macrumors.com/2017/09/07/kickstarter-airpods-podcase/