Sports cameras capable of capturing the thrills of extreme sports are on the rise, and a new iPhone case from Optrix aims to help users create even more of these stomach churning videos.
The Optrix Wide-Angle iPhone Action Sports Case is a rugged iPhone 4 and iPhone 4S case that clips to helmets, handlebars, motorcycles and more to capture every, "Bump, bash, crash, and splash."
The military grade polycarbonate shell is water-resistant and the inner part of the mount works as an everyday iPhone case. The Optrix case includes a 175 degree wide-angle lens for better action shots.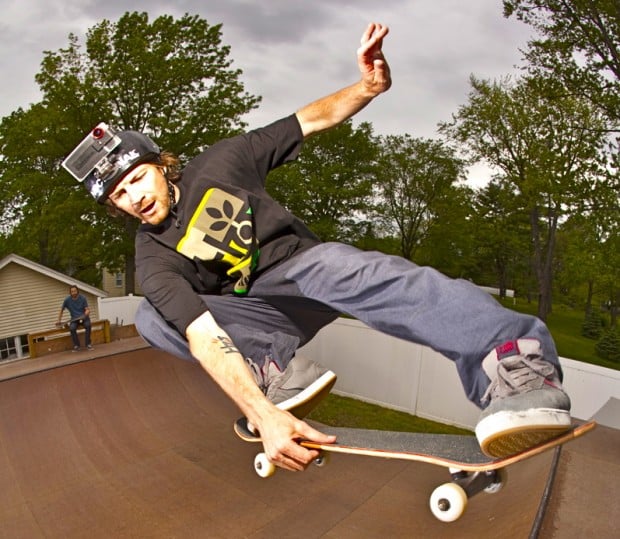 The case attaches to almost anything thanks to the 3M adhesive, so you can go from wearing the iPhone 4S on a helmet while skateboarding to capturing a day at the track in minutes.
Check out the Optrix Wide-Angle iPhone Action Sports Case in action in the video below.
https://www.youtube.com/watch?feature=player_embedded&v=sgzfg6S5OGI
The case combines with VideoSport and VideoPro Apps to overlay data like speed, g-force and lap times on the video, before posting to YouTube.
The case comes with a 3M mount, but there are other mounts in the works including a chest mount and a handlebar mount. The Kickstarter pledge levels include options for additional bases and for pre-ordering the other mounts.
Optrix has already brought one product to market, but the company is using Kickstarter to offer pre-orders on the new Wide Angle Sports Case. The kit will sell for $100 when it is in full production, but customers can back the case on Kickstarter starting at $49 for a kit.
This article originally appeared on https://www.gottabemobile.com/strap-an-iphone-to-your-head-for-awesome-action-shots-with-optrixs-new-case/