These days, teaching kids to ride is the easy part; finding a bike for them is the real challenge. Manufacturing shortages and COVID-related retail disruptions have wiped out sales floors and warehouse inventories.
But there are some models available and many brands expect to be selling models again early in 2021. If you need a bike right now, the list below includes some worthy options from brands and online retailers we trust: REI has several bikes available from Early Rider and its own brand, Co-op; Competitive Cyclist has several Strider balance bikes in stock.
Before you choose any model, read our guide to buying kids' bikes below; it has tips on how to find the right bike, now matter how old or advanced your child is. We also include more in-depth reviews of the top options we've tested this year (though some are not currently available).
Top Kids' Bikes Models Available Right Now
Best Affordable Balance Bike Strider Classic
Higher-End Balance Bike Co-Op Rev 12
Premium Strider Balance Bike Strider Pro
Best 14-inch Bike Prevelo Alpha 1
Best 16-inch Early Rider Belter 16
Best 16-inch with Front Suspension Prevelo Zulu Two
Best 20-inch MTB Cannondale Trail 20
Best 20-inch MTB (with Plus-Size Tires) REI Co-op Rev 20
Best 20-inch Kids Cruiser Electra Sprocket
Best 24-inch Paved Surface Bike Cannondale Quick 24
Best 24-inch Gravel and Mixed-Surface Bike Salsa Journeyman

Find the Right Kids' Bike
The world of kids' bikes has been turned upside down in the past decade. Training wheels are out, balance bikes are in. There's a slew of small bikes with suspension forks and disc brakes for little rippers. And even basic bikes have evolved to make riding easier to learn, more fun, and safer.
To take advantage of these advances, there are a couple key features to look for when picking up a new kids' bike. Getting the size and fit right is important too; it will make sure your little one gets the most out of their new ride. Here's what to look for, and 10 of our top recommendations, reviewed and evaluated by our test editors and proven on the road and trail by our crew of test groms.
[Related: 10 Great Bikes for Girls]
Get the Right Fit
Bike fit is just like finding the right pair of kids' pants. If they fit right, they'll get used all the time. Too tight or too large and, just like pants left in a drawer, the bike at best will go unused in a garage. At worst they can be a safety hazard—ill fitting bikes can be dangerously hard to control.
And just like pants, most bike sizes are based on inseam length. Many brands include on their web sites basic sizing info based on inseams or clothing sizes. Check it carefully. Wheel sizes also are critical to a good fit. They, in part, determine the bike's balance and stability, and how easily your child can get on and off the bike, as well as control the bike.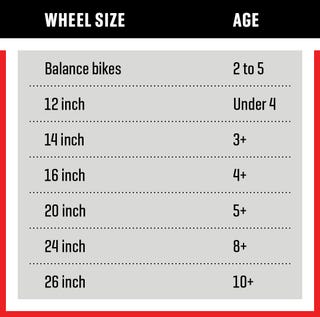 Staff
Shane Cusick, owner of Pello bikes says that a child's skill and demeanor also play a part. If they are just learning to ride, or ride cautiously it can be helpful to go down a size, especially if their inseam falls between wheel sizes.
Yeah, Count Grams for Kids Too
Adults obsess over the weight of their bikes. You know what? Weight matters even more for kids' bikes. A three- or four-pound difference in bike weight for a 30-pound rider with just-developing leg muscles is like a 20-pound difference between adult bikes. If you wouldn't ride a 40 pound road bike, don't expect your little one to schlep around an extra-heavy bike when they don't have to (and likely one with no gears!).
Bikes with aluminum frames weigh considerably less than the more common steel ones. Going to a rim brake from a coaster brake can save a pound or more. Some brands hide a lot of weight in the wheels. A bike with aluminum rims and fewer spokes can save another pound.
Geometry Matters for Kids
Just like it sounds, bike geometry can be as complicated as a college math class. You don't need to pull out the protractor to find the right bike, but there's a few things to consider. As with adult bikes, kids' bikes are getting lower and longer. A lower bottom bracket (the piece that holds the cranks) lowers the bike's mass, making it more stable and also easier for the kid to get on and off. A longer wheelbase makes the bike less twitchy, which is a good thing as kids develop riding skills. Many bike-shop brands and most kids-only brands like Spawn, Cleary, Woom, and Prevelo have adopted similar bike geometry (though there are key differences). But many department store bikes still look smooshed together. They work, but make riding more difficult.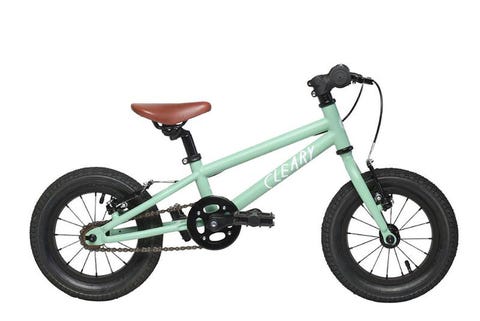 The Cleary is very stretched out. So it's more stable, and wobbles less.
Cleary Bikes
Buh-Bye Training Wheels
Training wheels, with all their good intentions, probably discouraged more kids (and their frustrated parents) from riding than anything else. They are unstable and do little to teach kids how to balance on their bike. They were a necessary evil before balance bikes came along. Now, there's no reason for them. To teach kids to ride, start them on a balance bike which teaches balance and body control while kids can still put their feet on the ground.
Rim Brakes Over Coaster Brakes
The CPSC requires kids' bikes to come with coaster brakes. There is some good reason for it: Most small bikes are inexpensive options sold at department stores. The rim brakes on those bikes are often poorly assembled and of poor quality–not something you'd trust to stop in an emergency. Plus, rim brakes require maintenance. So: simple, reliable, coaster brakes. But, coaster brakes weight about a pound more than rim brakes, and they work by pedaling backward—the exact opposite motion you want to enforce when teaching a child to ride. Our suggestion: Go with rim bikes if you're purchasing a bike over $200 and you're able to do simple maintenance on them.
More Key Considerations
Tires: Go with air-filled rubber tires whenever possible. Generally, wider mountain bike style tires are better for younger riders, says Cusick. You can run them at lower air pressures so they cushion the ride, and they provide better traction on all surfaces. Save the skinny road-style tires for later when kids actually start doing long rides on pavement.
Gearing: Most kids bikes will be singlespeed, and use different gear combinations. Some will be easier to pedal (better for hills) and others will be setup with a slightly harder gear (faster on the flats). Most manufacturers will list chainring and rear cog sizes so you can compare.
Components: To get the most use out of the bike, look for models that have saddles that can slide on rails, and handlebars you can raise and lower as well as position forward and back. If you really want to geek out, look at the crank length to make sure it's sized right for your kid's bike (not all are) and has the narrowest possible stance width (the distance between the crank arms, also known as Q factor) because kids generally have narrower hips than adults.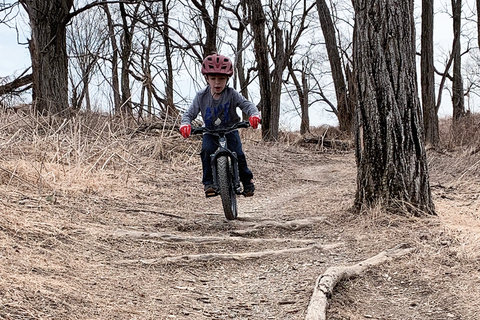 Louis Mazzante
How We Tested
Our test editors have a small army of pint size children who ride a ton and we used them to evaluate more than 40 bikes over the past year. We focused this review on bikes with wheels between 12 and 24 inches, which will cover most kids from 2 to 12 years old. Because kids grow out of bikes quickly, we looked at overall value, and quality (so you can resell quickly or hand them down). Weight is especially important, so we prized bikes that used aluminum instead of steel, and those with high quality rim or disc brakes instead of heavier (and harder to operate) drum brakes. Over the course of a year, our testers entered BMX and mountain bike races, and hit the trails, pump tracks, rail trails and roads. They did so many parking lot skids that we had to replace several tires.
-BEST VALUE BLANCE BIKE-
Strider Sport Balance Bike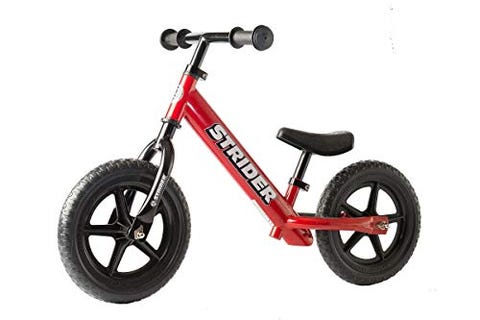 Strider – 12 Classic No-Pedal Balance Bike, Ages 18 Months to 3 Years, Red
Strider amazon.com
$82.99
Strider wasn't the first company to make balance bikes, but its simple, affordable and widely available bikes popularized the design that many now refer to the category as Strider bikes. This model has a few nice upgrades over the original, including a padded seat and thinner grips that make it easier for small kids to hold on. Despite a steel frame, it weighs just 6.7 pounds. To keep costs low (and the bikes maintenance free) Strider uses foam tires. You'll never have to fix a flat, but the tires lack the grip of air-filled rubber options and can slip on cement and hardwood floors.
-BEST BALANCE BIKE WITH A BRAKE-
Woom 1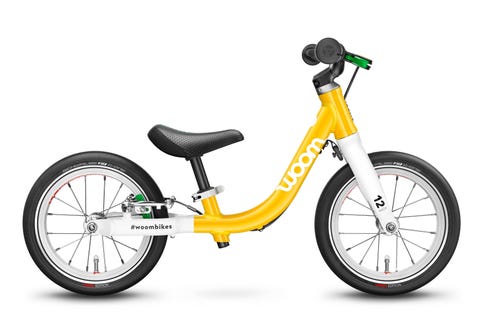 woom bikes USA woom 1
woom bikes USA woombikes.com
$199.00
Color-coded rear brake
Good, grippy tires
Lightweight and durable
Like Strider, Woom specializes in kids' bikes. With 12-inch wheels and a saddle that can be set low to the ground, the Woom 1 balance bike can fit kids as young as 18 months, giving them a head start on the competition. It comes with air-filled rubber tires for excellent grip on all surfaces, adjustable seat and handlebar, and a feature we love—a rim brake, which teaches kids how to stop right from the start (and saves wear on their shoes). There's also a built in steering limiter to keep your aspiring Kate Courtney from jackknifing on sharp turns. Despite all the features, an aluminum frame keeps weight to just about 7 pounds.
-Another Great Balance Bike-
Prevelo Alpha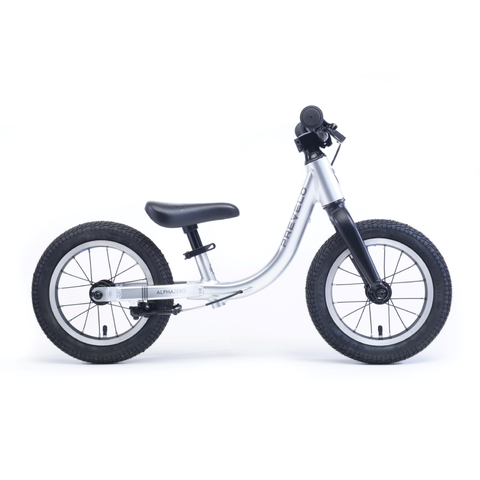 Courtesty
Alpha Zero 12in Balance Bike – Kids'
Prevelo Bikes competitivecyclist.com
$199.00
Prevelo is another new company looking to bridge the gap between entry-level bikes and the high-end options from boutique kiddie-bike makers. The Alpha Zero is the entry point to this range. Join Prevelo's trade-up club for a $69 more, and if you trade it in within two years for the next model up, you'll get 40 percent of the original purchase price. At 8.6 pounds, it's slightly heavier than most of the aluminum competition, but the Prevelo offers an effective V-brake tucked under the chainstays where it won't scratch kids' legs. Wheel nuts, as well, are rounded off for safety. Standover height is low and the tires are pneumatic Kendas. As a final touch, Prevelo will put your rider's name on the bike, the same way it's done in UCI international competition.
-BEST BEGINNER PEDAL BIKE-
Cleary Gecko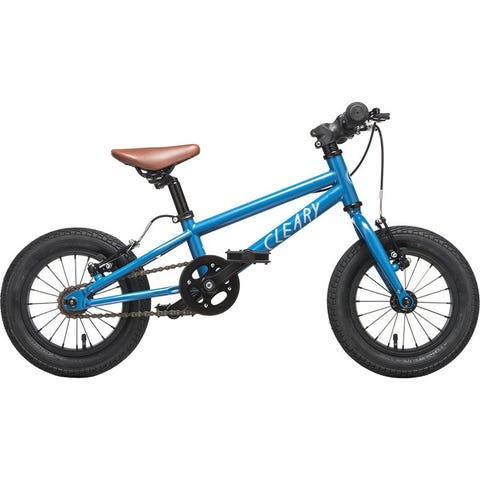 Gecko 12-Inch
Long, stable wheelbase
Front and rear rim brakes
Lightweight
Kids may outgrow it quickly
The Gecko is the bike to get when you have a tot who's ready to pedal at an early age. The 12-inch wheels and stretched-out wheelbase make it incredibly stable and easy for little ones to keep their feet on the ground when they're getting on and off. It comes with a freewheel and front and rear brakes, so kids can focus on learning to pedal with their feet and using their hands to brake. It has a light aluminum frame and top-quality parts, so it will last. That's good. Given the price, you'll want to eek out every mile of this model, and then pass it on to the next kid in line.
-BEST VALUE BEGINNER PEDAL BIKE-
Specialized RipRock 12 Coaster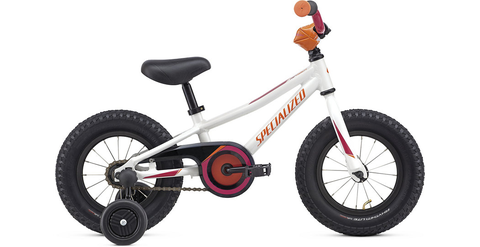 courtesy
Specialized Riprock
Solid construction
Puts rider in good position for learning
We generally prefer rim brakes to coaster brakes, but this bike has a lot of other things going for it: Good tires, a lower, stretched-out geometry, durable parts, and a good price. An aluminum frame helps keep weight low and the 2.3-inch-wide tires provide good grip on most surfaces. Their wider platform also helps balance and control. The RipRock's low bottom bracket makes it easier than some for kids to hop on and off, which is great when they're learning to ride. The bike comes with training wheels, but they are easy enough to yank off.
-BEST 16-INCH HARDTAIL-
Spawn Yoji 16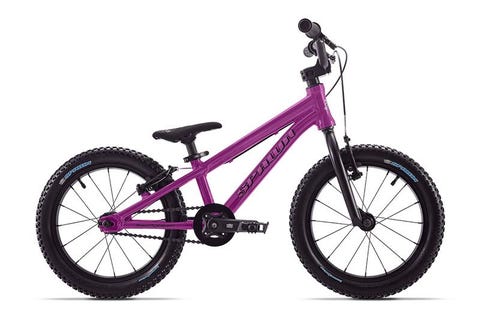 Spawn Yoji 16″
Great tires, saddle, and grips
Lightweight aluminum frame
The stout frame, sloping downtube, burly tires and aggressive lines make this bike look like an all-mountain hardtail ready for Red Bull Rampage. Still, it weighs just a bit over 14 pounds, so your little huckster will be able to pedal it uphill and cruise for miles on bike paths. The parts are just as impressive: Spawn's own Loadstar 1.9-inch mountain bike tires, three-piece cranks with a 64mm BCD (so you can easily change chainring sizes), a sleek Pivotal saddle, and a threadless stem that you can flip over to change bar height as you kid grows. This is the bike for kids who are ready to move from the sidewalk to the skatepark.
-BEST FRONT-SUSPENSION 16-
Prevelo Zulu 2 Heir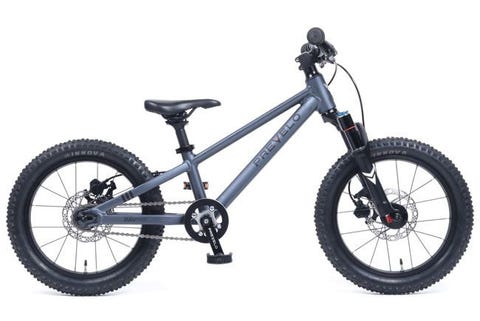 Zulu Two Heir
Great geometry and parts
Suspension fork is awesome
Disc brakes are game changers
Brakes and fork add weight
Prevelo is another new company that makes only kids' bikes. We've had several in to test, including the neat little Alpha Zero balance bike, but the $799 Zulu Two Heir is the coolest of the bunch. This 16-inch model trail slayer comes with disc brakes and the best-feeling kids' suspension fork we've ever squished. It's exactly what little rippers need to make the transition from bike paths to singletrack trails.
-BEST STARTER BMX-
REDLINE PROLINE MICRO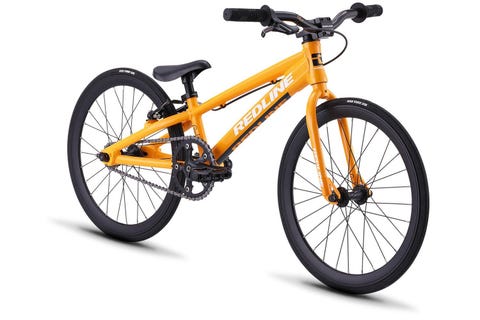 Proline Micro
18-Inch wheels fits smaller riders
Good parts that are easily upgradeable
1-inch tires are for hardpack tracks only
Redline has made some of the most influential bikes, and sponsored some of the most influential riders, in BMX. In fact, the Proline has been kicking around since 1977 in one form or another. This one, with 18-inch wheels, gives groms something to start flying around the track on. There's a lightweight formed and butted aluminum frame, three-piece cranks, tapered fork, and gearing appropriate for the age (Redline says the bike is for riders 4'4" and smaller). The 1-inch tires on those wheels are super fast on hard BMX track surfaces (especially paved tracks) but don't handle as well on loose dirt or gravel. This is a race bike only.
-BEST 20-INCH MOUNTAIN BIKE-
WOOM Off 4 AIR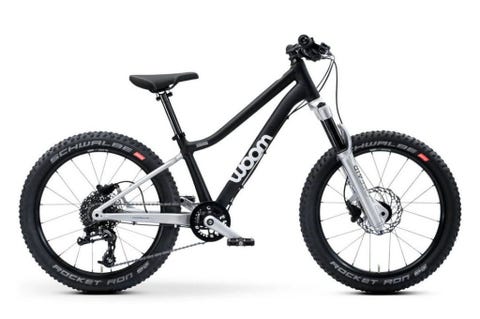 Courtesy
Off Air 4
Woom woombikes.com
$855.00
Smooth, bump-eating suspension
Lightweight frame and parts
Excellent handling
Costs more than most kids' bikes
When Woom added a remarkably good suspension fork to its already remarkably good 20-inch mountain bike, it made what we think is the best high-performance kids' trail bike available. The rigid version impressed us with its low weight, excellent parts, and frame design that enabled riders to go faster and shred harder. The RST-made suspension fork is smoother than any lower-cost air forks we've used. It's pretty light too—the whole thing weighs under 20 pounds. Adding it to the Off puts this bike in Beast Mode, ready to huck off front-yard booters or rip down rocky singletrack. This one is worth adding your name to Woom's wait list.
-BEST RIGID 20-INCH MOUNTAIN BIKE-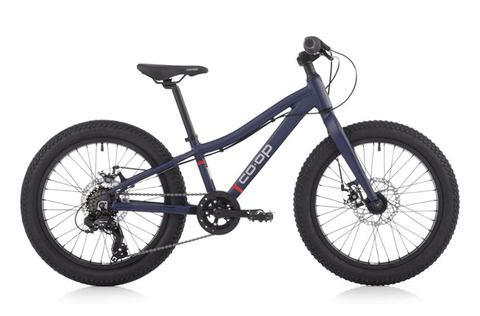 Courtesy
REV 20
Co-op Cycles rei.com
$379.00
Strong value
Wide, plus-size tires add traction
Requires some assembly if bought online
With its disc brakes, extra-wide tires (called "Plus-size") and reliable Shimano shifting, this bikes gives young trail riders a lot for the price. Our 8-year-old tester immediately hit the trails, where the 2.6-inch tires, run at low pressure, helped the bike roll over rocks, ruts, and small logs across the singletrack. At about 24-pounds, it's heavier than some rigid 20-inch bikes, but the extra traction and cushion from the wheels make it a reasonable tradeoff; the plus size tires offer some of the benefits of a suspension fork, which can add weight (or hundreds of dollars) to the price of a kids' bike. Co-Op is REI's house brand and the retailer delivers the bikes mostly assembled or allows you to pick them up in the store. They toss in a nice Park multi-tool, but unless you have decent bike-mechanic skills, we suggest in-store pickup if that's an option. The test bikes we received required more brake and derailleur adjustments than those from other consumer-direct brands.
-BEST 24-INCH PLUS-
Cannondale Cujo 24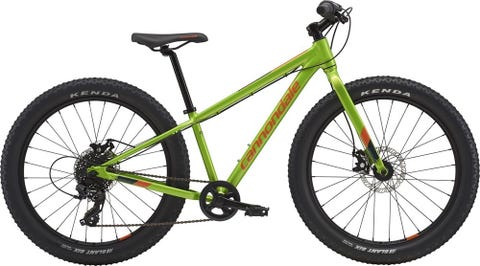 Courtesy
Cujo 24 Plus Kids' Bike
Cannondale $525.00
$366.93 (30% off)
Simple 1×8 shifting
Strong mechanical disc brakes
2.6-inch plus-size tires offer a ton of traction
Twist shifters aren't for everyone
Plus-size bikes are a great option for younger riders or anyone just learning. The extra wide tires offer a ton of grip and stability, especially in loose and slippery conditions where younger riders often stumble. The Cujo offers big-time performance, but with parts like mechanical disc brakes (instead of hydraulic ones) to keep the price reasonable. The extra-wide levers make it easier to use two or three fingers to squeeze, too. The 1×8 drivetrain has just one front chainring, which makes mastering shifting easier and reduces maintenance.
-BEST KIDS CROSS BIKE-
Giant TCX Espoir 24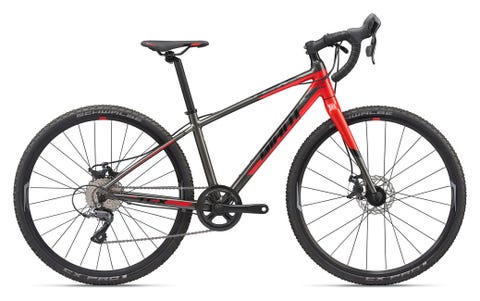 Courtesy
TCX Espoir 26
Giant giant-bicycles.com
$730.00
Aluminum frame and disc brakes
Versatile 35mm tires
Single front chainring simplifies shifting
May lack wide-enough gear range for some riders
Designed for young cyclocross racers, this bike also works great as a gravel bike, or for any rider who wants to explore on paved and dirt roads. The lightweight aluminum frame keeps it nimble, and the low-standover height makes it easier to get on and off the bike (and control it once you're riding). The 35mm tires come on 26-inch rims and mechanical disc brakes add stopping power over rim options. The aluminum frame, rims, hubs, and cranks helps keep weight down, without driving up cost. It's a versatile, fun-to-ride machine that will make almost any kid feel invincible, whether they're on the road or on a cross course.
This article originally appeared on https://www.bicycling.com/bikes-gear/a24282215/best-kids-bikes/