The Takeaway: Higher performance, more features, more versatile: The third generation Domane is one of the best road bikes you can buy right now.
Clearance for up to 38mm tires
Internal storage system
Improved aerodynamics save 12 watts
27 percent more compliant than the previous model
Price: $7,800
Weight: 18.9 lb. (54cm)
The third generation of Trek's Domane is not just the best Domane, it is Trek's best-ever road bike. And one of the best road bikes on the market right now.
Few bikes offer what the Domane SLR does: a bike that's equal parts performance, comfort, practicality, and versatility. It's more aerodynamic than the outgoing Domane (saving 12 watts at 4oKph) and takes at least a 38mm tire, and it has hidden fender mounts and sleek internal storage.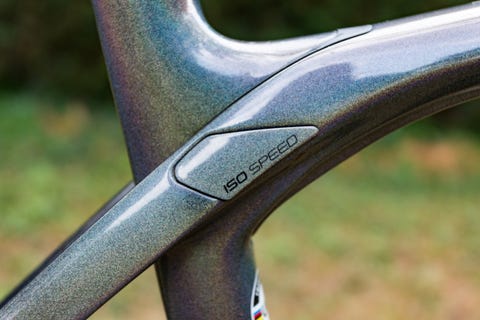 The Isospeed decoupler offers a noticeable performance and comfort benefit.
Matt Phillips
It has compliance-enhancing decouplers front and rear that work very well to improve both rider comfort and control, and that don't detract from the bike's pedaling efficiency or handling. The steering is light, and its handling precise, but with a mellower edge and more stability than a road-racing bike. That helps make it one of the best bikes on which to descend roads, as well as a capable all-road and light-gravel bike.
Style Road, All Road
Material Carbon
Tire clearance 38mm
Drivetrain Shimano Ultegra Di2
Chainrings 34/50
Cassette 11-32
Brakes Shimano Ultegra Hydraulic Disc
Wheels Bontrager Aeolus Pro 3v, tubeless ready, 25mm internal width
Tires Bontrager 32 Hard-Case Lite, 32mm
Handlebar Bontrager Pro IsoCore VR-CF
Stem Bontrager Pro
Saddle Bontrager Arvada
It is what a modern road bike should be: fast, crisp, useful, adaptable, and rider-friendly. The 32mm tires come stock on all but one model, a decision I couldn't applaud more. Fat tires rule because they're less prone to flats, can go more places, and don't require you to dodge every groove and hole in the road. Not only do they ride smoother, Trek says its testing indicates they're faster at speeds under 20mph (over 20 and the aero penalty takes over).
It is a touch heavy—it gains about 100 grams compared to the outgoing version—though it doesn't ride that way. And it's such a good and well-done bike, the extra weight seems worth it.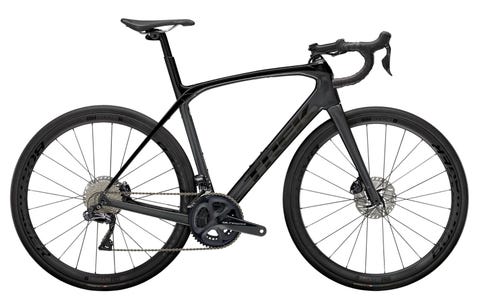 Trek Domane SLR 7
A stunning blend of speed, comfort, and versatility
Huge model range
But if you're a gram counter, know that the long-term review bike—a $7,800 Domane SLR 7 with Ultegra Di2 Carbon wheels and carbon handlebar—weighed just a touch under 19 pounds. That means the lower-end bikes will weigh even more. This new third-generation bike comes in 10 models priced from $2,300 to over $11k, plus the option to customize build and finish in Trek's Project One program.
This is the bike most of us should ride. It's entertainingly sharp and sporty, smooth, smart, and versatile enough for most forms of road riding—paved or gravel. And that's why it's one of the best bikes you can buy right now and why we chose it as the best bike of 2020.
Custom Options
There are 10 stock Domane models, but you can also customize in Trek's Project One.
Big Clearance
The Domane officially fits 38mm tires. Unofficially, you can squeeze in 40s.
Now With Threads
The Domane uses a threaded T47 bottom bracket.
Flexy Tongue
The compliance of the rear IsoSpeed system is adjustable.
Burrito Carrier
Fit a repair kit and more inside the Domane's down tube.
What's New
The 2020 Domane is the third generation of Trek's venerable endurance—and race—frame. Jordan Roessingh, Trek's global director or road product calls it "Our most versatile performance road bike ever," which is the kind of thing you'd expect a person in his position to say. But it's hard to argue with him when you look over the Domane's details.
Trek launched the IsoSpeed decoupler system—which adds to a bike's vertical compliance by promoting additional flex in frame tubes—with the first generation Domane. In the second-generation Domane, it added front IsoSpeed and adjustable rear IsoSpeed. With generation three (but only in SLR models) Trek adds the top-tube adjustable IsoSpeed system it developed for the Madone SLR.
This system is up to 27 percent more compliant than the one found on the second-generation Domane, with a rubber elastomer providing damping to tame unwanted bounce. Compliance is pegged to frame size—larger bikes get stiffer IsoSpeed tongues, smaller bikes have softer tongues. Lower-grade Domane SL models continue to use the seat-tube adjustable IsoSpeed system from generation-two Domane models. This system does not have the size-specific tune or the damper.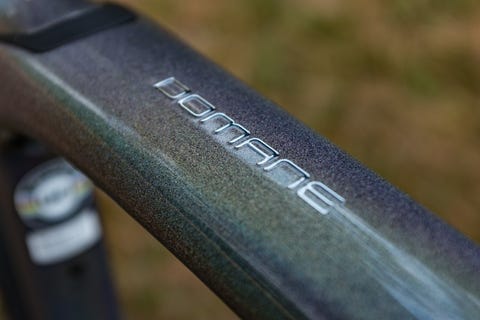 The new Domane is Trek's best road bike. Fight me.
Matt Phillips
The new Domane still uses Trek's modified seatmast system—though the cap now fits inside the seat tube instead of over—with an internal binder for a sleeker look. The mast top comes in several lengths and two offsets.
Most gen-three Domane models ship with 32mm tires. Bigger tires are more comfortable and offer better grip. And for most recreational riders, Roessingh says the 32mm tires are faster. According to Trek's testing, says Roessingh, at speeds under 20mph, a 32mm is faster because it has less rolling resistance than a narrower tire. However, when speeds creep over 20mph, the aerodynamic hit of the bigger tire becomes a factor and begins to swamp the rolling resistance advantage of a wider tire.
The Domane can fit up to a 38mm tire with 4mm of clearance on all sides. That means you can shoehorn in a bigger tire—perhaps up to 40mm—though with less debris clearance. Like earlier versions, the new Domane has hidden fender mounts; with fenders, up to 35mm tires may be fitted.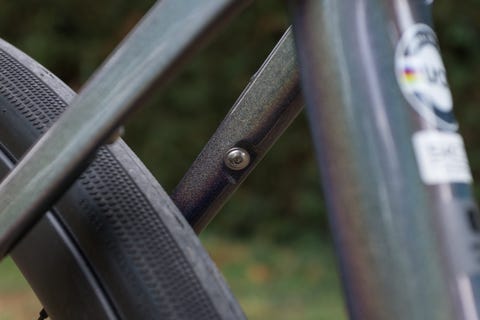 When it's time to add fenders, you mount a bridge to the seatstays.
Matt Phillips
Trek's engineering elves managed to add a bit of free speed to the Domane by adding some aerodynamic features. Compared to the previous-generation frame, and with the same build, the new Domane saves about 12 watts at 40Kph (good for about one minute of time savings per hour). The aero gains are due to refined tube shapes, as well as new hose and housing routing.
The hose and housing routing is smart. The Domane's front IsoSpeed system prevents Trek from stuffing hoses and housing along the fork steerer, a solution many other bikes employ. On the Domane, they enter the frame behind the headset, directed there by a simple hoop that clips into the faceplate of the bike's Bontrager stem. The Domane is compatible with any bar and any stem, though only Bontrager stems work with the hose and housing hoop.
The Domane is the first bike to launch with Trek's new internal storage system. It's the same concept as Specialized's SWAT box: Remove the panel under the bottle cage to access the inside of the down tube. Included with the bike is a cloth-covered organizer roll with spots for a tube, tire lever, Co2 cartridge, and inflator head. You can fit the organizer roll and a bit more—a few bars or gels, for example—though the amount of space varies with frame size. You can expect to see this system on more Trek models in the future.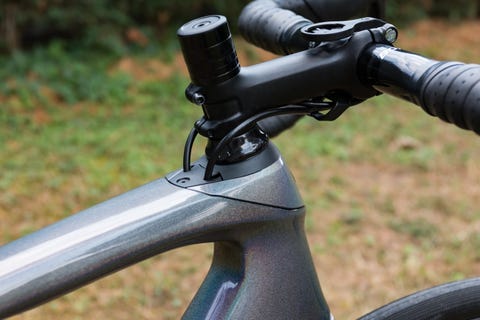 The Domane is compatible with any standard stem and handlebar.
Matt Phillips
Another new feature is a modified T47 bottom bracket system. Trek narrowed the width of the Domane's BB shell by one millimeter (compared to the T47's written standard) then added thicker flanges (a half millimeter on either side) to the BB itself. This gives the T47's installation tool more material to bite on. Frankly, it's a good modification: The standard T47 BB's have very thin flanges and it's easy to slip a tool when trying to install or remove one of the bottom brackets. Trek's modification does not affect the system's compatibility with cranks or bottom brackets.
Though an all-new frame in most ways, mainline Domane models carry forward the same endurance geometry. Through Trek's Project One customization program, you can order a lower stack and longer-reach geometry that Trek calls H1.5.
The Domane Family
The new Domane line consists of 10 stock models priced from $2,400 to $11,299. All models have carbon frames and use disc brakes. If the stock builds don't suit your needs, the new Domane is also in Trek's Project One customizable-build-and-paint program. You can also purchase Domane frameset for $3,300.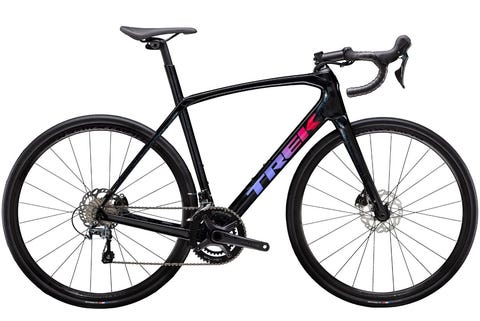 The 2020 Domane line starts with the SL4 at $2,300.
Courtesy
There are two frame levels: SL with Trek's 500-series carbon and SLR with 700-series carbon. SLR models get all the new features and are lighter. Lower-grade Domane SL models continue to use the seat-tube-adjustable IsoSpeed system from second-generation Domane models: This system does not have the size-specific tune or the damper.
Only SLR models get Bontrager's IsoCore carbon bar which features a layer of vibration-damping material in the carbon. However, all models get IsoZone gel pads under the bar tape.
Following a growing trend, Trek did away with women's-specific geometry and model designations in the new Domane line. Instead, the company added more sizes, more builds, and more color options to its mainline Domane models. So while Trek's Domane WSD models go away, representatives argue that all riders get more options than before.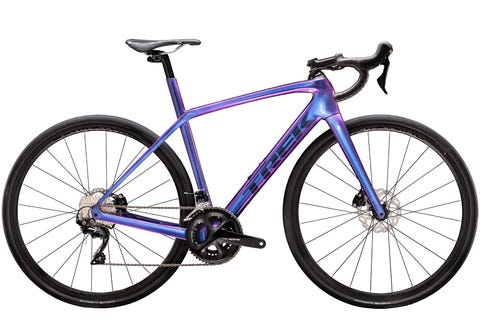 Most Domane models are offered in two or more color options. This is the $2,900 SL5 in Purple Flip.
Courtesy
Some of the build adjustments from its women's-specific models—shorter-reach and narrower bars, shorter stems, and shorter-reach brake levers—were incorporated into smaller sizes. The only thing not found in this new scheme are models that come stock with a women's saddle. Buyers will need to work with their Trek retailer to get a saddle that suits their anatomy. I hope Trek retailers will swap for an equal-level Bontrager saddle at no charge.
Ride Impressions
I attended the Domane launch in Italy, where I had the opportunity to ride only a customized version of the Domane. Though it is possible to build the bike I rode through Project One (the price of the bike I rode would be approximately $11,600), it was not a mainline model with a stock build.
The day after Trek launched the new Domane, I received a Domane SLR 7 ($7,800 with black/silver finish) for long-term review. This model has Shimano Ultegra Di2 drivetrain (34/50 rings with 11-34 cassette) and brakes, Bontrager's Aeolus Pro 3V tubeless-ready wheels, 32mm Bontrager R3 Hard-Case Lite tires, and a Bontrager IsoCore carbon bar.
On my scale, the Domane SLR 7 weighed 18.9 pounds (54cm). That's not light for a nearly $8,000 carbon road bike in 2019. For comparison, my Cannondale SuperSix Evo Hi-Mod Disc Ultegra Di2 ($7,750) review bike weighs 17.1 pounds (54cm) with similar build, and a power meter. The Domane SLR 9 with the 28mm tires, higher-end wheels, and top-of-the-line drivetrain will be lighter than my review bike. But almost all other 2020 Domane models will likely weigh about 19 pounds or more.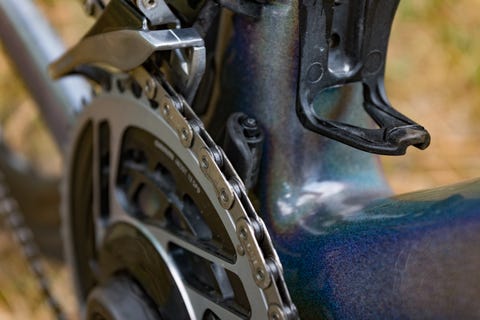 Integrated chain watcher improves chain security on rough roads.
Matt Phillips
The Domane has a lot of stuff going on; it's the most feature-rich performance road bike you can buy right now. But adding stuff adds weight. Adding performance—aerodynamics, and compliance—can add weight. "The new [Domane] SLR and SL frames both gained about 100g when all the frame and hardware (IsoSpeed included) are rolled up," said Roessingh.
But given how obsessive cyclists are about weight—despite constant reminders that weight isn't a major influence on performance in most situations—if a brand is going to add weight, it better damn well pay off.
Based on my impressions of the Domane so far—ride and otherwise—it does. The weight is not a concern. Most important, it doesn't ride heavy. The bike is quick and fast feeling; extremely stiff at the bottom bracket, with light and precise steering. On the steepest grades, yeah… it's not as crisp and ethereal as a 13-pound climbing bike, but then it doesn't feel like a 19-pound bike either. Before I knew its weight, I had it in my head that it weighed around 17.5 pounds—a typical weight for a bike with an Ultegra Di2 disc group.
But more significantly, the amount of time I spend on the type of grades where its weight might be noticeable or impactful is tiny. I suspect it's the same for most riders who aren't in the pro peloton.
And what you get for a bit of extra weight is Trek's best road bike, and one of the best road, and more, bikes you can buy.
This is a stiff, quick, and high-performance bike. The steering is light and communicative, though not as fast as the typical road-racing bike. But the Domane also has a lot of BB drop (about 78mm, almost a centimeter more than a typical road bike), a bit longer chainstays (420mm), and a slightly stretched wheelbase. All of that gives it supreme stability.

The Domane's geometry
Courtesy
On top of the geometry are the IsoSpeed decouplers, which not only add comfort to the rider but also help the rider stay centered on the bike and not bounced off line by bumps. And then there are the floaty and sticky 32mm tires. Friends, the Domane has been a great bike to descend with, but this new model puts it on a whole new plain. It descends like an anvil dropped from the ISS.
As much as I love to go downhill, I'm only a good, not great, descender on the road. But I've never felt more confident on the descents or had as much fun descending as I have on the Domane. Its limits are very high, but it's also very communicative and very confidence-inspiring.
So, it rides great. But it's also extremely smart and versatile.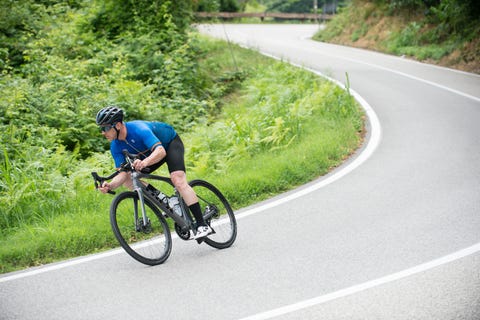 The Domane in its natural habitat.
geoff waugh
I loved the SWAT box when Specialized launched it, and I love it here. It's more, and more elegant, storage for your tools and spares and food. However, I have some worries about the integrity of the door. With a full bottle in the cage, there's a concerning amount of flex and wobble in the door (Specialized's doors are rock solid). I wonder how this will play out with tolerance drifts, and over the long haul. How will it hold up after a year of pounding? Time will tell, I suppose. And as much as it wobbled and flexed, it held firm and makes no noise. Trek's representatives say they've tested the snot out of the system and its passed with flying colors. I hope it proves so reliable in the real world.
I also love the tire clearance. Swap the tires, and this is a good all-road or even gravel bike. Frankly, I think a lot of gravel bikes are over heavy and over slow. But a good set of mid-width gravel tires on this Domane and it's a cracking machine for all but the most gnarly gravel roads. Put lighter skinnier tires on it, and it's going to be a fast road bike (watch those pedals in the corners—the BB is LOW with smaller tires). I love that blend of road-race performance with all-road versatility.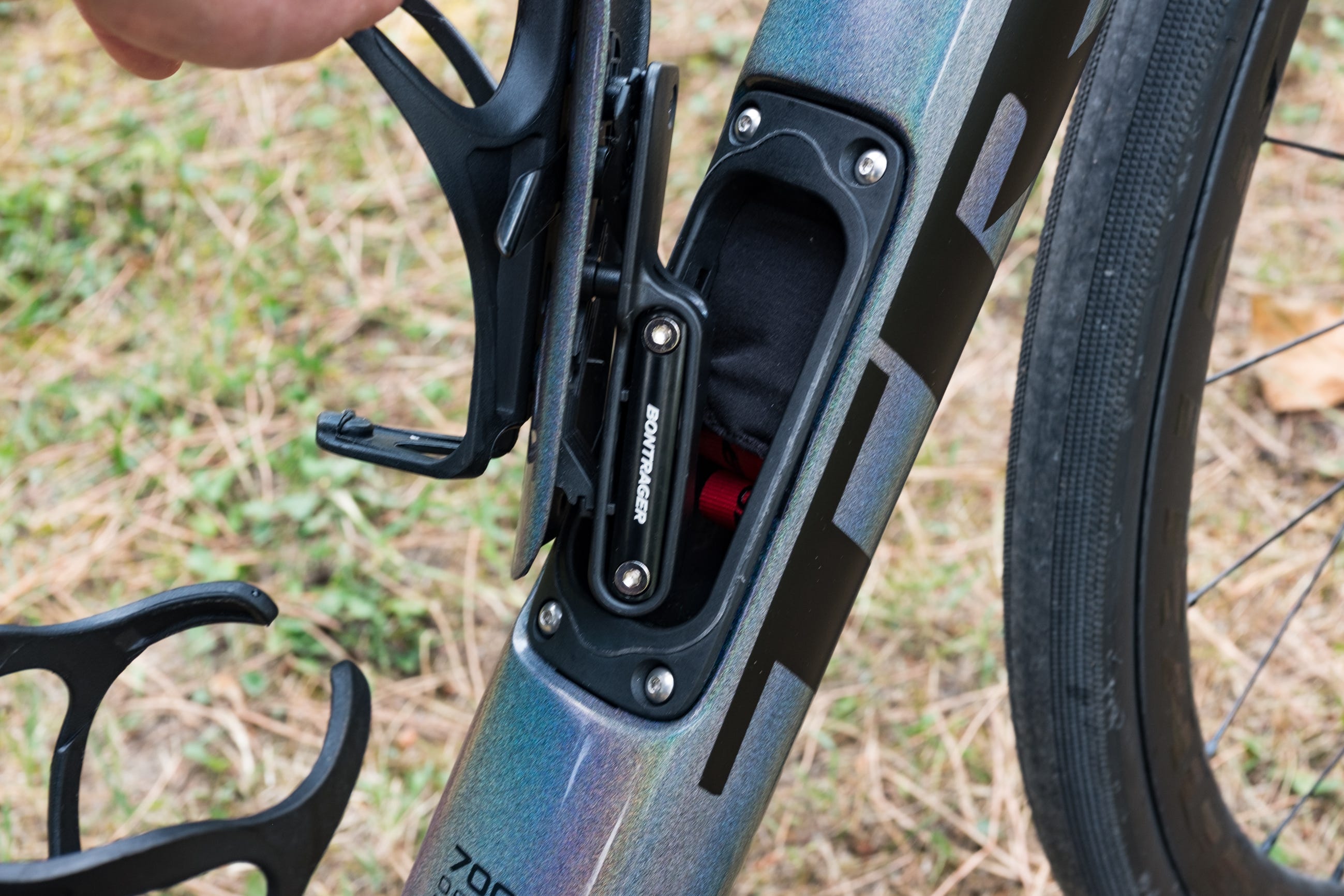 The Bontrager mini-tool gets its own holster.
Matt Phillips
I also love that the new Domane has aero touches (because improved aerodynamics are one of the few things that legitimately make you faster), that it doesn't use a stupid or annoying proprietary bar and stem system, has fender mounts, and that Trek was able to give this bike so many features, and they made it look good.
Yes, it is a bit less sharp than a pure road-racing bike, and it might be a bit heavy, but then so am I. The Domane is a blend of versatility, practicality, and performance that no other bike currently offers. It's the kind of bike we could all use in our life.
Matt Phillips Senior Test Editor, Bicycling Matt has been testing bikes and all forms of cycling gear since 1995.

This article originally appeared on https://www.bicycling.com/bikes-gear/a28523624/trek-domane-slr-review/